Nail Trainer
By using the Nail Trainer as the centerpiece of your training program, you embark upon the fastest route to becoming a highly-skilled Nail Technician. Nail Trainer lets you practice your nail skills whenever you want and for as long as you want.
'Practice makes perfect'
If you are serious about building a profitable career as a Nail Technician, get yourself a Nail Trainer Hand.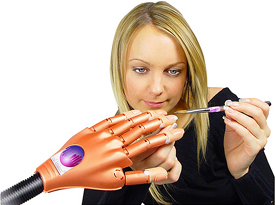 Benefits of having a Nail Trainer Hand:
You will never have to search for models again.
Create nail extensions faster.
Achieve a higher skill level.
Do durable, long lasting nails.
A Nail Trainer will also help you:
Build self confidence.
Speed the learning process.
Improve application techniques.
Eliminate mistakes on nails.
Increase you skill levels.
Use your own nail products to learn your skills on Nail Trainer:
Acrylic Tip / Overlay Nails.
Acrylic Sculpted Nails.
Gel Tip / Overlay Nails.
Fibreglass.
Maintenance / Infills / Repairs.
Nail Art.
Eliminate nail problems such as:
Searching for hand models.
Finding time to improve skills
Repeated application mistakes.
Inconsistent results.